Power of Dance
We offer specialist dance programmes, customised to various individuals and groups and are for people with neurological and common chronic conditions including:
Care homes for the elderly
Dementia care homes
Older frail adults
Parkinson's and Multiple sclerosis (MS)
TBI (traumatic brain injury)
Strokes
People with disabilities
Depresion/Anxiety
The sessions are designed to cultivate neuroplasticity, using music and dance/movement to help with balance, gait, mobility, strengthening, building confidence and mental robustness.
Our care home and dementia programmes utilise group activity based dance and music to engage participants through multiple senses, including touch, sound, and sight. Sessions are highly interactive and personalised. We are currently working with over half a dozen care-home providers throughout Christchurch (references available on request).
Our Parkinson's and MS power of dance programmes are designed to slow down the progression of Parkinson's/MS by using dance at a variety of physical levels, while stimulating the neuroplasticity of the brain.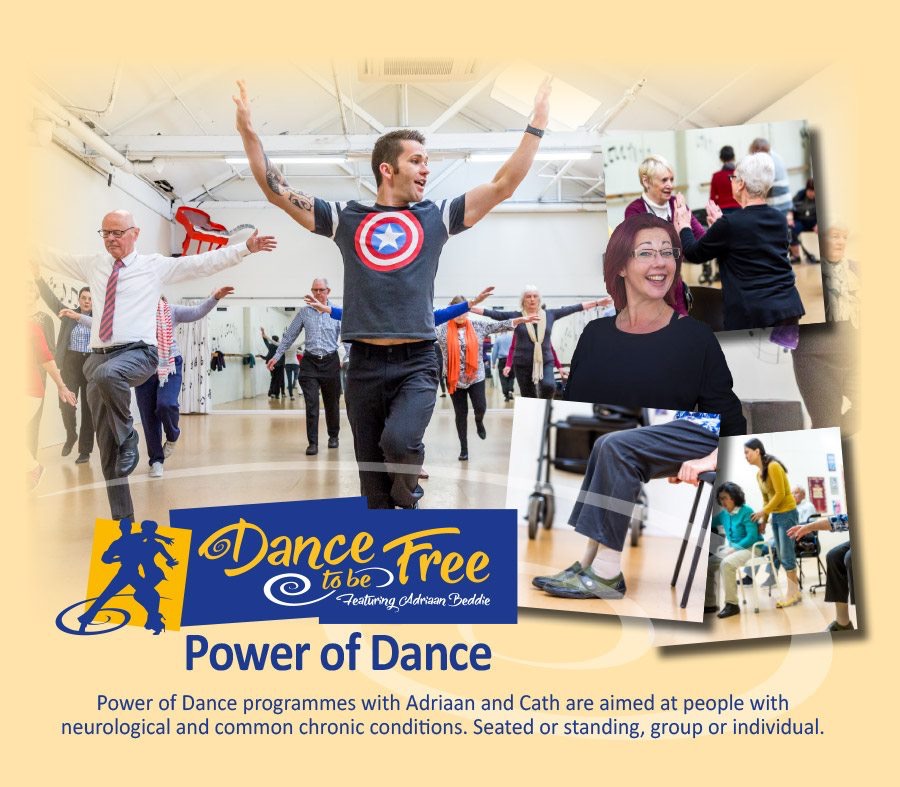 ---
For further information:
 Some articles and research that have been done on the benefits of dance:
Support for individuals and families of those with Parkinson's or Multiple Sclerosis – Multiple Sclerosis and Parkinson's Canterbury
---
Investment
Care homes for the elderly and dementia care homes:
Personalised programme delivered at your location, includes all travel costs to Christchurch locations:
$60/half hour
$75/for 45 minutes
$90/hour
Power of Dance:
Personalised one on one dance sessions from $40 (when a room/space is provided).  $65 when room rental is needed.
Group dance programmes from $10/person (small groups)
Payment Methods: We accept cash or cheques or Eftpos (including credit cards).
Direct credit is also available for regular dancers.
---
Testimonials
Frewbie, a Parkinson's patient (who works with Adriaan from Dance to be Free), talking about Dance and 'going big'.  
….

Dancing with Frewbie 
For more details, please visit the Dance to be Free FaceBook page on this.
---